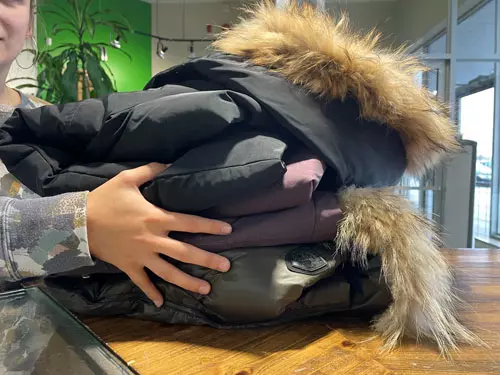 GIVE HAPPINESS AND WARMTH:
5 YEARS ALREADY


It was 5 years ago. An October morning, colder than most, indicating that the first flakes would soon color the gray autumn landscape white. From her car to the office, she had shivered several times, while wearing one of the most insulated jackets in the Chlorophylle collection for the current season. On her not-so-long journey from the car to the office in downtown Chicoutimi, many homeless people found themselves with a blanket over their shoulders for warmth, and a coffee in hand for warm fingers.
"The first thing I did that morning in October 2019, when I arrived behind my computer, was to propose, to Chlorophylle's new management, to commit to helping our fellow man in a second-hand coat collection campaign. That was the spark for a wonderful human adventure that we're celebrating 5 years of this year," recalls Claudie Laroche, the instigator of the Coat Giveaway in every Chlorophylle store in the province.
From November 1st until December 17th, in exchange for a winter jacket of any brand, we'll give you $75 off the immediate purchase of a new Chlorophylle winter coat*.


Plus, this year, bring in an unused child's winter coat and receive $30 off the immediate purchase of a new child's winter coat* from the Chlorophylle collection.
* Selected winter coats only, valid in-store.
2,246 jackets have been redistributed in the last 4 years.
If the trend continues, we should exceed  If the trend continues, we should surpass the magic figure of 3,000 jackets donated this year, since the beginning of the coat giveaway.
AN EAGERLY AWAITED EVENT
(BY CUSTOMERS AND ORGANIZATIONS!)
Weeks before the event, the phone starts ringing. "Is the Don de manteau event coming back this year?" we're asked repeatedly. We've ingrained a habit among Chlorophylle brand loyalists. So, when the first frosts arrive, we open our wardrobes wide to check for winter pieces that no longer fit or meet our needs. We know that the next time we come across a Chlorophylle boutique in our area, we'll be able to leave our coat in good condition and give someone else the chance to wear it.
If, at the outset, our colleague Claudie wanted to see homeless people no longer have to fear the coming cold snaps, she could not have imagined the extent to which the event would grow. Over the past few years, we've been approached by organizations from all walks of life.
🤍  Families on a tighter budget.
🤍 Young people experiencing homelessness. 
🤍 Women in court seeking to regain their autonomy. 
🤍 Men and women juggling financial insecurity. 
🤍 Newcomers looking for a new job and experiencing their first winter. 
See the list of participating organizations in the "Give Happiness and Warmth" coat donation campaign.
DID YOU KNOW? ✨

👉Each boutique is paired with a specifically selected local organization, as the clothes are redistributed freely within their community.
👉 The second-hand jackets brought into the boutique are mostly from major international brands, in perfect condition, clean, and flawless.
👉 These are jackets for men and women, which teenagers can wear. This year, we've added a children's coat section, which was needed by some of our participating organizations!
OUR PROMISES
As a brand, we pay particular attention to the materials used in the manufacture of our garments. We look for partners who respect strict standards of eco-responsibility or hold international certifications. Every year, we are committed to creating a 100% local product.
"We're aware that we're part of an industry that contributes to climate change, but we're taking steps to go beyond conventional actions. The Donate a Coat event is a concrete example of our commitment to the reuse of existing garments, which represents a step towards a more sustainable future," concludes Katie Bouchard, Production Manager at Chlorophylle.
CASH DONATIONS
For the past two years, we have been collecting cash donations through our website which are then divided among our participating organizations. A pat on the back that we are pleased to offer to all those who give their time and listen to those who really need it. 
Subscribe to our newsletter !