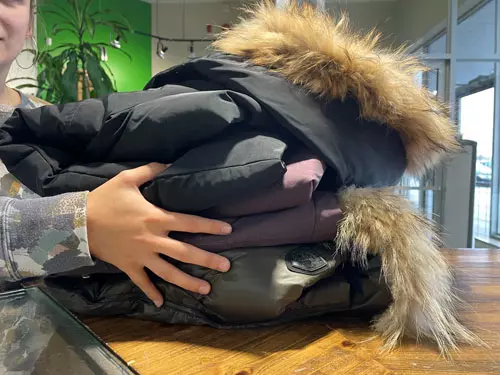 A great network of solidarity:

The "Give Happiness and Warmth" 
Chlorophylle has established its position as the ideal ally for Canadians in their outdoor and nature activities. We have accompanied many adventurers on their international expeditions, while encouraging local projects of people whose values we share. Because we believe that every concrete action leads to great projects.
The head office of the Quebec company, located on Racine Street in the heart of Saguenay, is just a few steps away from the "Maison d'Accueil pour sans-abri" of Chicoutimi. A warm jacket is the most important piece of clothing for our harsh winters. Whether it's to introduce yourself in front of a future employer and proudly wear a jacket that makes you feel good or to be surprised by the cold weather when you first arrived in the country, all Quebecers need a good jacket! 
"On my way to work, I was encountering people on the street without appropriate clothing for the early sub-zero mornings. I wondered how I could do my part and help, especially working for a company known for its warm jackets. That's how I came up with the idea of a coat giveaway through the stores." Claudie Laroche, marketing director for Chlorophylle and instigator of the event launched 4 years ago. 
Give to the next
The event has since snowballed! Employees from all over the province of Quebec receive jackets which they are amazed with the quality and especially the quantity. As the weeks go by, the boxes fill up and accumulate in a corner of the store while waiting for the collection of the organization associated with the store. The concept is simple but a win-win for everyone. For each jacket collected, regardless of the brand, the customer receives a $75 discount to purchase a new one. "At the end of each campaign, the entire team is touched with the results, the encounters and the feedback received" says Mrs. Laroche. The number of organizations receiving donated jackets increases from year to year, and the clientele is increasingly varied (homelessness, families in need, newcomers, etc.).
A wave of solidarity
Donations are then given to community organizations across Quebec and redistributed to people who are homeless or in need. They are always eager to know if the event will come back again. Why is this? Because the need is great in all regions and the coat is the biggest expense when the cold sets in.
Pierre has been working at the Maison d'accueil pour sans-abri de Chicoutimi for 20 years. He is the one who goes to the nearest Chlorophylle boutique to get the coats. Like no other, he knows how much each donation makes a difference for people in need. "There are people who arrive with almost nothing on their backs. Winter comes quickly and the people who come to us freeze. They spend a lot of time outside too, so they have to be well dressed," he says.
This year, thanks to our "Give Happiness and Warmth" campaign, no less than 818 people will receive a coat to keep them warm this winter.
Giving a second life
The jacket donation allows hundreds of jackets, sometimes too big, too small or simply dethroned by another more recent model, to live a second life through this initiative. Contribute, you too, to this wave of happiness and warmth!
16 boutiques across Quebec.
2252 jackets redistributed in 4 years.
15 participating organizations in 2022.


"The demands are growing for our organization. An event like the "Give Warmth and Happiness" coat giveaway is a big help. We receive coats that are practically new and that your clients have taken care of. For an immigrant, for example, it ensures that he or she looks good and can go out and find a job. It makes a difference. "Nicole Martin, volunteer for the St-Vincent-de-Paul Society in Rivière-du-loup for 22 years.
Click here to find the organization associated with the store near you.
" Each jacket has a story to tell. Giving away a garment that gave us a lot of pleasure but that we don't use as much means that someone else can create memories with the same one " - explains Manon Rivard, communications director, reminding us that each reused garment reduces the consumption of textile and the use of drinking water (used in the dyeing of the fabric). 
Cash donations
For the past two years, we have been collecting cash donations via our website which are then divided among our participating organizations. We are grateful to all those who offer their time and attention to people who need it. This year, no less than $598 will be redistributed.
No one should fear the cold in Quebec and it is a pleasure to help clothe hundreds of people in difficult situations.
We hope to have the privilege of distributing happiness and warmth for a long time to come!
Subscribe to our newsletter !