For your outdoor outings, the secret is the layering system. This system consists of a base layer, a mid layer and finally a shell layer. You can then add or remove layers of clothing depending on the temperature and type of activity.
In the mountains, the temperature can change drastically in a few minutes. An outing on a beautiful sunny day can quickly turn into a torrential rain or even snow showers and thus see the mercury drop. Better to have planned ahead!
As soon as your body heat increases, you will quickly remove layers, even in winter.
The advantage of the layering system is that you will have clothes adapted to all seasons. No need to have a coat for each season.
The mission of a base layer is primarily to manage the moisture produced by the body. This base layer is used to wick away sweat and depending on the type of sport, it should also keep you warm or cool.
For it to be effective, it should fit snugly without being too tight in order to transport the moisture outwards while retaining your body heat.
A base layer should have good anti-odor protection, it should also keep you warm and dry.
Here are our base or first layers:




The CHL Performance base layer range was created for intense activities in temperate temperatures or when the need for warmth isn't high.
Polartec's Power Wool fabric is made up of 65% polyester and 35% wool, with the polyester on the surface providing durability and resistance while the wool on the back of the fabric provides warmth and helps regulate body temperature, as well as odour protection more quickly. The back of the fabric is ribbed, forming a multitude of channels which helps disperse moisture more quickly and efficiently. Flatlock seams are strategically placed to facilitate layering.
Easy to care for, breathable and quick-drying, this is the ideal base layer for spring, summer and autumn.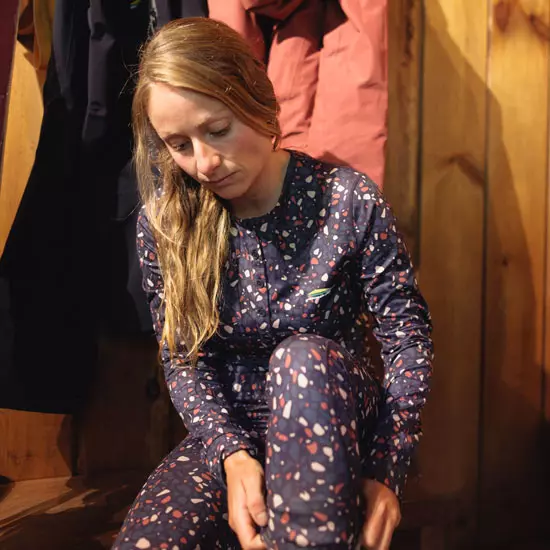 Our CHL2 base layers as well as the CHL PLUS are designed for moderately intense activities in cold weather, but there are still some differences to note.
Our CHL2 are made of 88% polyester and 12% spandex, they are stretchy, lightweight and breathable. They dry quickly and efficiently wick away moisture. The surface is pill-resistant and the brushed fabric lining provides warmth for maximum comfort while Polygiene's anti-microbial treatment offers excellent protection against bad odors. The flat seams are strategically placed to facilitate layering. Offered in patterns that perfectly coordinate with the rest of our collection, they are versatile and so beautiful that you even wear them after sports activities.
For the CHL PLUS, we have chosen the POWER GRID fabric from POLARTEC, 92% polyester and 8% spandex. They are stretchy, lightweight and breathable, they dry quickly and efficiently wick away moisture. A brushed surface that resists pilling, flat seams for added comfort and ease of layering, and an antimicrobial treatment that protects against odors.
The fabric has a textured back and is designed with multiple channels to disperse moisture more quickly and efficiently. It's this technical detail that makes the biggest difference between our CHL2 and CHL PLUS.
Finally, our CHL ULTRA base layer range is designed for low to medium intensity activities in very cold temperatures, perfect for skiing or playing outside. Thanks to the POLARTEC POWER STRETCH material, composed of 90% polyester and 10% spandex, they are highly stretchable, breathable and light. They dry quickly, wick away moisture and also have an antimicrobial finish that provides protection against bad odors. The weight of the material combined with a brushed inner ensures warmth and comfort even in very cold temperatures, and CHL2 material inserts strategically placed and flat seams are indispensable technical advantages.
Avoid cotton at all costs,
it will take forever to dry!
SYNTHETIC INSULATION
When the temperature drops, an extra layer will be required. That's when the insulation layer will bring comfort and warmth. The intermediate layers are offered with synthetic insulation or down.
Coats with synthetic insulation have the advantage of wicking away sweat to the outside of the fabric and, above all, drying quickly. Intense or aerobic activities will be well suited with synthetic insulation.

This collection of coats, either insulated with Thermolite Micro, Primaloft Gold® or with the ecological insulation Repreve, brings lightness and warmth. In addition, some models can be easily stored in their pocket.
DOWN INSULATION
Down has the advantage of being warmer, lighter and more compressible than synthetic insulation. Down jackets will be suitable for medium or low intensity activities. The #1 enemy of down is moisture.
Our collection of jackets is insulated with RDS 600FP down. With RDS certification, you can be sure that the down you are buying is sourced from a responsible supply chain. These lightweight and compressible jackets will provide you with a lot of warmth.
This piece of equipment is the one that will protect you from wind, rain and snow. It will allow your layers underneath to perform better and help you retain your warmth.
Our shells are made of 3 layers providing greater resistance and are more performant even in cold temperatures. It can therefore be used as a winter coat when used with a mid-layer.

You want a jacket that is light, compressible and breathable. You can use it both in summer and winter. Carry it in your backpack to have it at hand if the wind rises or the elements rage.
The shells or outer layers.
Shop our latest layer coats and pants.
Subscribe to our newsletter !