Show the explorer in you with the
Banquise parka
A custom-made jacket for Mario Cyr
In the fall of 2021, a winter parka was created according to the wishes and requirements of our ambassador Mario Cyr, this great explorer of the extremes. He asked us for a light jacket that would keep him warm for more than 40 consecutive hours. He also wanted this jacket to be made of eco-friendly materials. After several meetings with our team of designers, the Banquise parka was born. Mario was able to test it during his expedition in February 2022 in the Canadian Arctic.

A limited production of this coat has been added to our Fall-Winter 2022 collection.
Designed for the extremes
When creating the Banquise jacket, lightness and compressibility were very important. It was therefore logical to use down as insulation. However, down and water do not go well together because once the down gets wet, it takes a long time to dry and the cold sets in. Since Mario is often near water, we opted for a perfect blend of down and synthetic to ensure comfort and warmth in both wet and dry weather.
Primaloft Gold insulation is a blend of 70% 750 FP duck down and 30% synthetic insulation that retains 95% of its warmth in cold and wet conditions. This Primaloft Gold insulation blend is lightweight and dries 4 times faster than regular down. This insulation offers all the comfort, flexibility, lightness and compressibility of down with all the benefits of synthetic insulation
Lots of storage
Among Mario Cyr's requests, the need for storage was essential. As a videographer, using multiple items for photo and video requires a good amount of pockets. In total, 4 large pockets with flaps on the front of the coat, 1 pocket on the left sleeve, 2 interior mesh pockets and an interior pocket for an electronic device.
As a general rule, a coat has between 2 and 4 pockets in total. Mario is now the happiest of explorers with his 8 pockets that allow him to carry all his gear on him.
Respectful of the environment
Mario Cyr, a great defender of the environment, is a front-line witness to climate change as an explorer in the Arctic since the 1990s. He has seen the metamorphosis of the landscape and changes in the behavior of marine animals over the past three decades. It was therefore essential that this parka be created with environmentally friendly materials and with a small ecological footprint. More than 50% of the nylon used in the coat comes from recycled fishing nets.
The use of Primaloft Gold insulation is Bluesign® certified. This standard guarantees the non-use of toxic substances during textile production and sets high standards for water and energy consumption.



" Every little detail has been thought out, from the number of pockets needed for all the gear I need to carry, to the enlarged coat pulls that I can use without taking off my mittens and freezing my fingers!  " Mario Cyr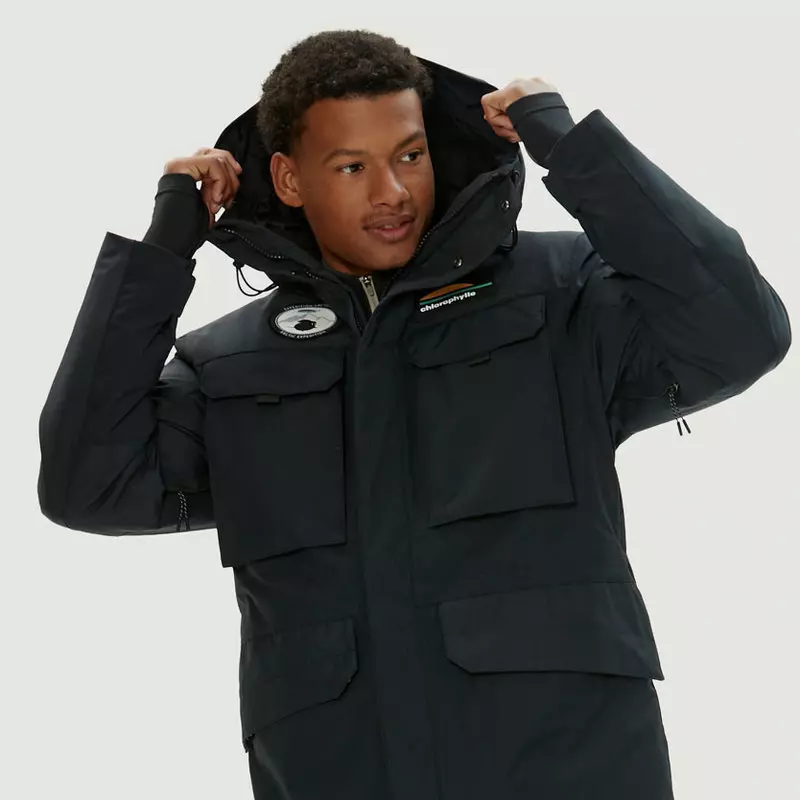 A roof over your head
With its large hood, you'll be well sheltered from the elements. Its hood offers three easy-to-access adjustment options that can be manipulated with one hand.

It is also possible, upon request, to add a fur collar for even more warmth and comfort.
Be localised
Recco technology is also built into the jacket. The RECCO® reflector makes you locatable by rescuers*. RECCO reflectors are passive transponders that require no batteries or power to operate, offering an unlimited life span.

* Rescuers must be equipped with RECCO® detectors.
Resistant and waterproof
The use of Ripstop fabric offers increased reinforcement making it extremely resistant. All seams are sealed which gives the garment waterproof and windproof properties without sacrificing excellent breathability. With its 20k/20k waterproof/breathable rating, you'll be able to face the elements comfortably and without worry.
Suspenders
Are you overheated and don't know where to put your coat? No problem! Our Banquise parka is equipped with practical shoulder straps to carry it as a backpack.
Subscribe to our newsletter !